LaVonna Jane Topham
---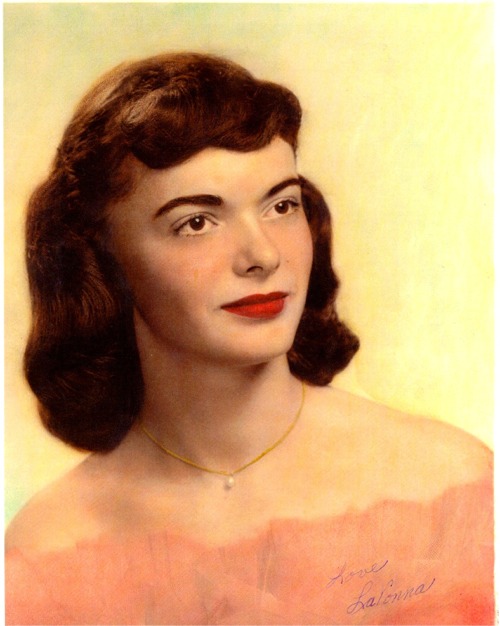 Graduation Picture
---
Juneau County Star-Times Wednesday, February 27, 2002
LaVonna J. Flynn, 60, of rural New Lisbon died on Saturday Feb. 23, 2002 at the Gulf Coast Hospital in Ft. Myers, Fla.

She was the daughter of Lorne K. and Lucille P. (Bever) Topham and was born on Nov. 16, 1941 in Marshfield.

LaVonna was a graduate of Beloit Memorial High School. She was united in marriage to John J. Flynn in October of 1960 in Beloit. LaVonna and John operated Flynn's Marina in Germantown Township for many years. LaVonna also was employed for many years at Hess Memorial Hospital and at Fairview Nursing Home in Mauston, and later worked in the Emergency Room. She also served as an EMT on thhe Mauston Ambulance Association.

She is survived by her husband John; daughters, Sheryl (Scott) Osborn of Rio, Wis., and Terrie (Don) Stull of Mauston; grandchildren, Timothy, Jeremy, Andrew and Rebecca; great-grandchild Paige: and nieces, nephews, other relatives and two very special friends, Sandy Foster and Carol Casper.

She was preceded in death by her parents; brothers Lonnie and Larry; and sister Lanice Flynn.

Relatives and friends may call at the Hare Funeral Home in New Lisbon on Friday, March 1 from 5 to 8 p.m. with service at 7:30 p.m. Rev. Jeff Fairchild will preside.

---
Father :
Lorne Kenneth Topham
Mother :
Lucille Pauline Bever
Birth date : November 16, 1941 at 2:30 a.m.

Born at : 404A West Cleveland St., Marshfield, Wisconsin

Occupation : General Office Work (Sharpe Studio), Flynn's Marina (1/3 owner), Nurses aid and EMT.

Married :
John James Flynn
Marriage date : October 22, 1960

Married at : Our Lady of the Assumption, Beloit, Rock Co., Wisconsin

Death date : February 23, 2002

Buried at : Cremated, ashes sprinkled in the Gulf of Mexico

Children :
Sheryl Marie Flynn
Terrie Lynn Flynn
Sources

Birth-Wood Co. Reg. of Deeds Volume 60, Page 521, marriage certificate and Social Security Death Index.
Marriage-Rock Co. Reg. of Deeds Volume ?, Page ?; Marriage Artical.
Death-Social Security Death Index and Obituary.
Buried-John J. Flynn (as she wanted).
Obituary-Juneau County Star-Times Wednesday, February 27, 2002.
Other-LaVonna Flynn, Ruth's (mother in-law) Obituary and Social Security Death Index.


My Links

Allies Home Page.
Allies Surnames.
Biber/Biever/Biver/Bever first names.
Bever/Biber/Biever/Biver Family Outline.
Flynn Home Page.
Flynn first names.
Mortimer Home Page.
Osborn Home Page.
Stanley and Shore Home Page.
Stuer Family Outline.
Topham first names.